A brand new collection of Kick and Bass Loops for Psytrance music production. Kick and Bassline for Progressive or Full-On Psy-Trance or Psychedelic Trance, GOA-Trance or Electronic Dance Music (EDM), Techno, Synth-Pop, House, Club, ACID or electronic music or Bass Music or widely applicable. Psytrance踢低音循环 踢低音混音 踢低音混音的秘密 踢低音声音下载 download de sons de bumbo. segredos de mixagem de bumbo.
Overview of ALL our Sample Packs

Check out the new Volume 3 ! here < < < < <<<<=========


Check out the new Volume 2 ! here < < < < <<<<=========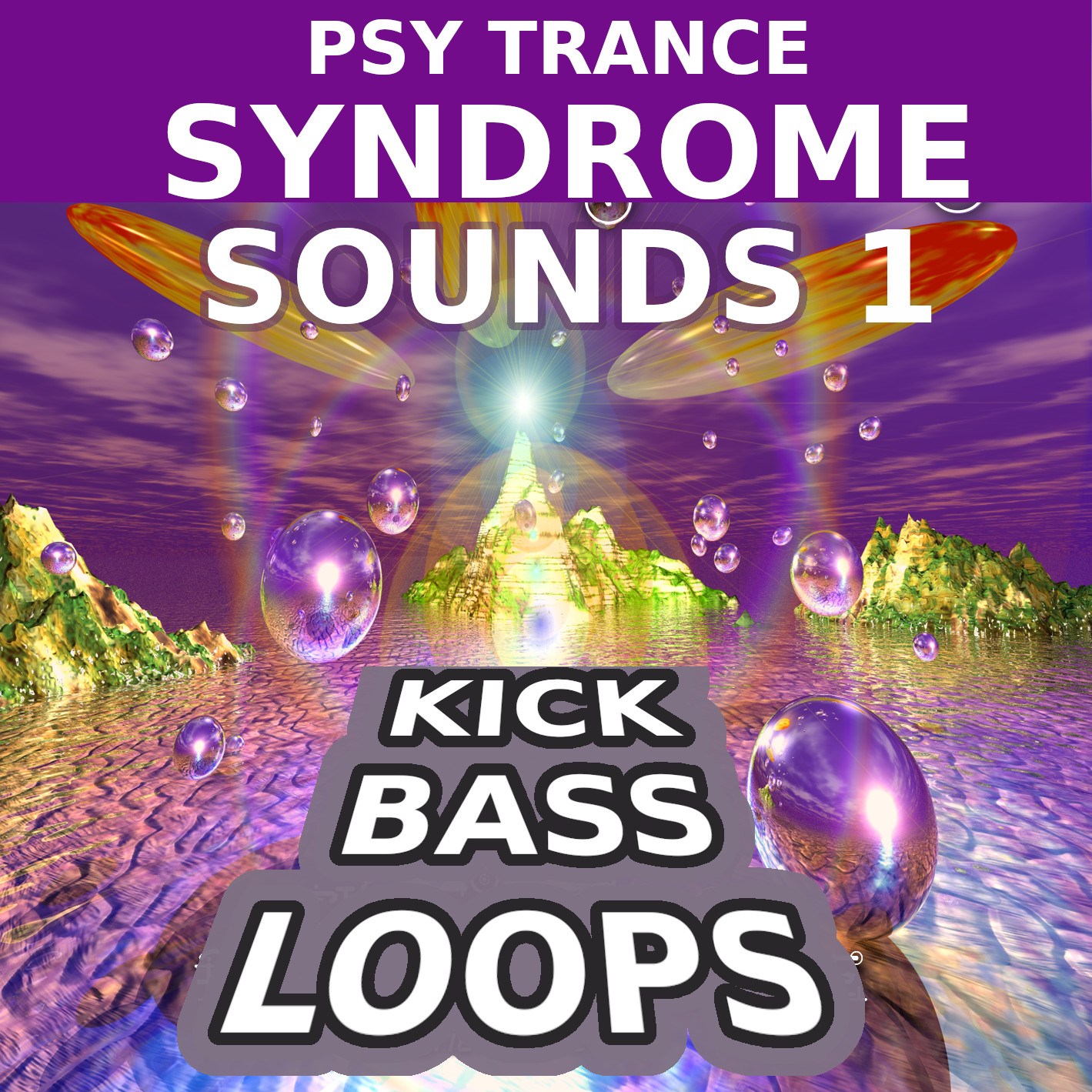 100% Royalty-free samples
2210 Loops for each 132-165 BPM in C1-C2
with 5 kicks * 34 tempi * 13 tones
Begin your track without mixing problems!
Kick and Bass are mixed in all variations phase-optimal and RMS-maximized.

PSY TRANCE SYNDROME SOUNDS Vol1 – KICK BASS LOOPS
( PsyTrance1-SYNDRM )
EUR 19.0 EUR 29.0
Overview of ALL our Sample Packs
The free Demo Sample Pack contains
4 long psy basses
Kick2 with 7 loops in D#,E,F,F#,G,G# at 138 BPM
Kick1 with 7 loops in E,F,F#,G,G#,A,A# at 148 BPM
No watermarking in demos
Some Demos built with cut loops
Note: Demos are created without any additional sounds or effects processing (just loops cut and arranged).
WARNING: Do not hear the demo sounds too loud and too long! It may damage your hearing. Do not use this demo sounds in production.
Demo Sequences

Kick1 F#1 143 bpm
Bass long

Kick2 KBB 141 bpm

Kick1 KBBB 135 bpm
Bass scales KBBB

Kick1 C2-C1 KBBB 135 bpm

Kick2 C2-C1 K_B_ 138 bpm
Bass scales KBB (Triplets)

Kick1 C2-C1 KBB 165 bpm

Kick1 C2-C1 K___ 139 bpm
Demo Sample Loops from the Sample Pack
Each 8-beats Loop contains these patterns with (K=Kick, B=Bass)
K__'K_B'KB_'KBB at 3/3 signature followed by
K___'K_B_'K_BB'KBBB at 4/4 signature (why, read more below).
G1 148 bpm
F1 138 bpm
PSY TRANCE SYNDROME SOUNDS Volume 1 – Sample Pack
Unique Energetic KICK and BASS-Line Mix-Loops
Clean Sound – Precise Timing – Optimal Mixed.
A 8-beat KICK loop
per 132 – 165 bpm
and C1 to C2 bass
and 3/3 – 4/4 signature patterns.


KICK and BASS mixed in perfect phase and maximal energy.
What's new in Vol1 Update
A lot more processing stages applied
Long fat basses in the groove patterns
390 extra bass samples (over 0.3 sec long),
powerfull psy bass sounds in 6 different waveforms per tone C1-C2,
useful for pattern variations and bass FXs (pitched basses, reversed bass riser, etc.)
Harder punchier modern kicks
Increased power of mixed kick and bass
More energetic waveforms
Smoother and groovier sounding
Why this Sample Pack
With this sample pack it's easy-going, no longer having audio mixing problems (phase cancellation, side-chaining, latency) with Kick and Bass.
Start faster and save a lot of time! Don't need to spend time and effort on an other Kick and Bass Tutorial with a lot of plugins.
We hope that with this sample pack, artists can use their time better for creating innovative music instead of battling audio mixing problems.
Removing barriers to bring melodies into Psy-Trance!
No longer monotone same-note bass lines. We think this is not a style question, this is because of technically audio mixing problems of high energy power beats.
What it provides
Time saving, start building your track immediately on a solid well mixed KICK and BASS (no phase cancellation problems anymore)
Easy to change KICK and BASS during production, without damaging the mix.
Easy to change song tempo without falling KICK and BASS apart and loose the groove and perfect mix.
Easy to change song tonality without need for pitching KICK and tuning BASS and re-adjusting the EQ and FX processing pipeline.
More energetic pulsing beat due to optimized mix leveling. Sounds different from manually mixed, because side-chaining the BASS brings the pulsing beat to low loudness level.
Both the 3/3 and 4/4 beat is mix optimized, so you can have both rhythms in your track with no effort. That gives more variety and freedom of variation.
Multiple different high power BASS drums combined with different cool Bass sounds.
bpm and tonality labeled filenames for easy search.
Each Kick mixed with multiple different bass sounds at different tonality and exact timing.
The sounds are designed, mixed and mastered on Genelec audio monitors and UB-Collossus-Bass 18″ SubWoofer System.
Be the first with your track sounding standing out!
It's a huge production level improvement!


Mix Precision of different Kicks and Basses in different tones (rows) and patterns (columns).
It solves these Pain-Points
In Audio Production, Mixing and Mastering (time used to experiment with unlimited possibilities, knowledge needed)
energetic fat deep crystal clear powerful stomping pumping grooving bass drum sound samples.
Make your KICK and BASS sound outstanding good at parties and festivals on large speaker systems.
Avoids frustrated long-time experimenting with a synthesizer to build Kicks with a Kick-Tutorial or using a dedicated Kick-Synthesizer.
Compress and EQ the Kick base-drum and sub-bass to make them fit perfectly.
Avoids phase cancellation in the mix of Kick and Bass over-lappings.
Avoids audio plugin latency in your DAW (with time shifts and hick ups and glitches its not easy to get the sound you want).
Avoids side-chaining difficulties (side-chain mixing Bass and Kick).
Optimization is trial and error and that takes time and tools!Use optimized sounds that saves you time and many special tools.
Description
Great for classic psytrance, goa, full-on and progressive psytrance
Sample Pack contains
100% Royalty-free samples
Loops: 2210 (5 kicks * 34 tempi * 13 tones)
Basss: 390 (5 * 6 synths * 13 tones)
Kicks: 5
all Kicks with Bass loops for each bpm in the range 132 – 165 bpm (34 folders)
all loops with bass sounds in 13 tones, from C1 to C2 (tonality scale is A4 = 440 Hz)
all loops containing 3/3 and 4/4 signature patterns
download as zip file 558 MB, containing 2630 WAV files, 175 folders, total 622 MB
all files are labeled by bpm and tone (for easy search)
WAV files, 44.1 kHz, 16 bit, mono
Works with All DAW Software including Cubase, Logic, Ableton Live, Pro Tools, Reason, Reaper, Sonar, Studio One, Mixcraft, FL Studio, Garageband, Samplitude and many more…
PC & Mac Compatible
Kick and Bass loops
Each 8-beats Loop contains these patterns with (K=Kick, B=Bass)
K__'K_B'KB_'KBB at 3/3 signature (Triplets) and
K___'K_B_'K_BB'KBBB at 4/4 signature.
That means you get the speedy driving 4/4 KBBB together with the 3/3 KBB arranged and mixed with the exact same samples and volumes at the same tempo. To make your tracks more rich in variations of 3/3 and 4/4, and allows you to cross different music styles.
In the pattern you get the KICK and the BASS in it's cleanest form.
Different powerful Kicks and Basses are used.
All Sounds are unique and clean rendered with special software for 100% timing accuracy.
Why it is different than side-chain mixed
Higher bass volume than side chain mix.
You can hear and feel the loud Bass mixed on the kick.
This gives the whole beat a punchier, more energetic drive.
Kick-Bass Mix has minimal-est phase cancellation and maximal energy for both 3/3 and 4/4 beats.
Allows to have longer kicks than 1/16 or even 1/8.
Exact timing of Kick and Bass sounds (no latency shifts).
Well designed and selected high quality kick and bass sounds that match very nice.
Production ready powerful and clean kicks.
Tonality tuned bass for C1 to C2 mixed with Kick.
Tips And Tricks for Users
We know that this sample pack saves you a lot of time and struggle to have your mix and mastering perfect with a super perfect KICK&BASS. (no phase cancellation).
The samples are optimized for 3/3 and 4/4 beat! If the 4/4 is mixed perfect, with the same sounds and mix levels the 3/3 beat is perfect too! So you can have 3/3 and 4/4 beat perfectly in the same track without effort!
The KICKs are super clean, no distortion, uncompressed, without reverb, without extra attack samples, so you can add your individual touch, as you add high-hats.
It's easy to cut and re-arrange, because of super clean rendered sounds (no reverb or delay FX).
The Basses are clean and available in all the typical positions in the beat loop.
The volume of the bass sounds can be changed by simply normalizing the bass note only. So the KICK + BASS mixing is not affected.
If the release of the BASS is too long for you, you can easily fade it out (extending release time is not so easy).
Some basses have spiky attacks and the hole sample can be normalized, we decided not to clip the spikies, so you can choose your mix and mastering tools do reduce the spikiness. Or choose one without spikies.
Note that in the BASS + KICK mix the BASS is not dynamically side-chained or EQ-ed to the KICK! Both samples are statically mixed in the cleanest way, so it sounds very natural clean, maximal loud and punchy without artifacts.
PSY TRANCE SYNDROME SOUNDS Volume 1 covers the whole range of 132-165 BPM

BPM range / Psytrance style (summarized from Psytrance Guide)
145-148 Psychedelic, Uptempo Psy, UK Psy, Classic
138-142 Psytrance, Psy-Trance, Classy, 140-BPM-Psy
134-138 Progressive Psy, Psy-Prog, Progressive
130-135 Minimal Psy, Minimal, Deep Psychedelic, Zenonesque
136-140 Tribal, Triplets, Ethnic Psy
134-140 Offbeat, The Offbeat, Progressive Trance, Hamburg Psy
128-140 Psytechno, Psychedelic Techno, Psytek
138-140 Psy Tech-Trance, Uplifting Psy
130-138 Psybreaks, Psychedelic Breaks, Psy Tech-Funk, Broken Beats
130-138 Mainstream, Commercial Psy, Pop Psy
135-150 Goa Trance, Goa, 604 Psy
145-160 Nitzhonot, Uplifting Goa, Morning Goa Trance
140-148 Full-on, Morning Fullon, Israeli Full-on
145-150 Night Full-on, Twilight, South African Full-on
140-155 Dark Psy, Cyberdelic, Alien Psy
150-160 Forest Psy, Forest Psychedelic, Scandinavian Dark Psy
135-145 Suomi, Suomisaundi, Finnish Psy
Licensing and Terms of Service
100% royalty free
With your purchase of the product we grant you (as the artist) a non-exclusive license to use the sounds 100% royalty free in your artisitc compositions productions (for commercial use).
But you are not allowed to resell or give away or sharing or exchange or provide access or provide access information to the product and the sounds in any form.
Product
Products are delivered digitally as zip file via download links once payment has been made.
Check the demos to decide if you like it and if the data format is compatible with your use before purchase!
No Refunds, no exchanges because of digital delivered data products.
If you are not sure this is the rigth product for you and you have questions about it please contact us.
Payment
Payment by debit or Credit Card via PayPal (you can use PayPal as guest with no registration, to pay with Credit Card ("Checkout as Guest")).
No user account creation needed on our page.
Our website does not store your name, email, credit card and payment details on our server.
Copyright © Bossart Analytics – Syndrome Sounds | Legal Notice | Privacy Policy | Contact | About